Alicia Svigals
single
Alicia Svigals, a founder of the Grammy-winning Klezmatics, is a composer, vocalist and the world's foremost klezmer violinist, who almost singlehandedly rescued that fiddle tradition from the brink of extinction with her recording Fidl. She was an NEA MacDowell Fellow in 2014, an honor for first-time fellows of "extraordinary talent." She was also a 2014 fellow at LABA: A Laboratory for Jewish Culture in NYC, and received the Foundation for Jewish Culture's 2013 New Jewish Culture Network commission for her original score to the 1918 silent Pola Negri film The Yellow Ticket. She is currently working on the score to a feature film based on Gertrude Stein's novella Brewsie and Willie, and is collaborating with author Sarah Schulman on a musical based on Isaac Bashevis Singer's novel Enemies, A Love Story.
Svigals has taught and toured with violinist Itzhak Perlman, who recorded her compositions with the Klezmatics; she has also composed for the Kronos Quartet. She's been featured in Eve Ensler's Vagina Monologues at Madison Square Garden with Phoebe Snow, Glenn Close, Whoopi Goldberg, Susan Sarandon, and Brooke Shields; and Osvaldo Golijov was commissioned to create a work for her and clarinetist David Krakauer (then a fellow bandmember in the Klezmatics) entitled Rocketekiya , recorded on the Milken Archives label and performed at Merkin Concert Hall and Jazz at Lincoln Center.
In Svigals' band the Klezmatics, she created contemporary Jewish music that combined the Yiddish tradition with a postmodern aesthetic and progressive worldview. She co-led and toured with the band for seventeen years, recording albums which reached the top ten of the world music charts. With them she composed music for theater, dance and film: for Tony Kushner's A Dybbuk, first produced at the Public Theater in NY, and his work-in-progress It's an Undoing World, for filmmaker Judith Helfand's A Healthy Baby Girl, and for poet Allen Ginsburg and Israeli singer Chava Alberstein. Alicia's multi-media event The Third Seder,featuring Tony Kushner, artist Neil Goldberg and the Klezmatics was presented by La Mama and by the Jewish Museum in New York , becoming the model for Michael Dorf's Third Seder events. Alicia and the Klezmatics recorded two albums with violinist Itzhak Perlman, both featuring her compositions; they became the best-selling folk albums of all time, and the project was the subject of PBS documentary In the Fiddler's House. They performed with Perlman on David Letterman, and at Radio City Music Hall, Tanglewood, and Wolf Trap.
Ms. Svigals plays and writes music in many genres, and she's recorded on projects from Avraham Fried's Avinu Malkeynu to the soundtrack to theL-Word. She wrote string quartet parts for singer Diane Birch's debut, Bible Belt, and played Indian-style violin on Gary Lucas and Najma Akhtar'sRishte. She's appeared in stadiums with Robert Plant and Jimmy Page of Led Zeppelin, recorded for John Cale's Last Day On Earth and the Ben Folds Five's Whatever and Ever Amen, and John Zorn's Cobra. She composed an Americana soundtrack to Judith Helfand's documentary The Uprising of 1934 with singer Peggy Seeger, arranged string quartets for singer Debbie Friedman at Carnegie, provided original music for choreographers Risa Jaroslow, at Lincoln Center, Naomi Goldberg at the Ford Theater in L..A. Her album Vodkazak, produced by Chabad rabbi Zalman Goldstein, feature her klezmer interpretations of Hasidic Nigunim, a rare production from that community featuring a female artist.  Svigals original live music accompanying author Thane Rosenbaum's readings from his novel the Golems of Gothem (with characters based in part on her!) was presented by a number of venues including the 92nd St. Y in NYC.
Svigals also writes and lectures on Jewish music and culture.
Klezmer Unfettered
Of Klezmer Unfettered, Ari Davidow of the Klezmershack writes… 
Svigals and Lerner enchant Amherst:
It was a concert worth driving two hours each way for as Canada's famed jazz pianist Marilyn Lerner (Flying Bulgars, duos with David Wall, etc.) met New York City's groundbreaking klezmer fiddler Alicia Svigals halfway at the National Yiddish Book Center last night. Those present had come primarily to hear Svigals who was as incendiary and amazing as usual, and who was matched by the incomparable Lerner on piano. The two performed klezmer standards, each other's pieces, and even did some improvisation based on audience request. People kept looking at each other, "did you hear that"?
Alicia and jazz/new music pianist Marilyn Lerner are Klezmer Unfettered, a duo that explores the outer regions of klezmer via improvisation.  They have performed the concert program to acclaim from the City Winery in NYC and the Payomet festival in Wellfleet MA, to the Chutzpah Festival in Vancouver, Grinnell College in Iowa and the National Yiddish Book Center in Amherst, MA.
The Ancient Law
The Ancient Law (Das Alte Gesetz) a cine-concert: a screening of the foundational 1923 silent film, with a live original score by Alicia and pianist/composer and silent film music legend Donald Sosin.
THE ANCIENT LAW is a landmark in Weimar cinema and an outstanding example of the creative contribution of Jewish filmmakers in 1920s Germany. It is the story of a rabbi's son who leaves his shtetl home in Galicia and makes his way to Vienna, where an archduchess at the imperial court falls in love with him. The movie draws a complex portrait of the tension between tradition and modernity.
The discovery of the censor's certificate with the text of the original intertitles was the impetus for this new restoration of THE ANCIENT LAW, available through Flicker Alley films.
The Yellow Ticket
Directed by Victor Janson and Eugen Illès the film, was made at the end of World War I and on the eve of the Russian revolution. It stars an adolescent Pola Negri, who would later become the legendary femme fatale of the silent era, and tells the story of an innocent young Jewish woman from a Polish shtetl who is constrained by anti-Semitic restrictions to lead a double life in a brothel while attempting to study medicine in Tsarist Russia. The film includes precious footage of the former Jewish quarter of Warsaw and the people who once lived there. Pre-eminent film scholar Tom Gunning said about the score:  "I believe this accompaniment to The Yellow Ticket is one of the most powerful I have heard. It evokes not only a sense of the contemporary context of the culture in which the film took place, but our awareness of what was done to it afterwards. The sound of piano, violin and the human voice evoke passion, energy and a profound sense of mourning, bridging the historical distance between us and this film as eloquently as does Pola Negri's extraordinary face."
They are currently touring the Yellow Ticket, a silent film and live original music project.
Fiddlers on the Roof workshop/concert
Drawing on local talent, both amateur and professional, Svigals leads a klezmer string orchestra in a euphoric evening of old-world Jewish dance tunes.  Musicians arrive first to learn the secrets of klezmer fiddling, and to rehearse the music they've received and prepared in advance.   The audience is then welcomed, musicians and listeners make a 'lechayim' (a Yiddish toast) and share whiskey and 'rugelech' (Jewish pastries), and the concert begins…  If possible, the event should take place on a roof, under the stars, with audience seated around small tables.  Or in cold weather, an indoor space can become an old-world tavern!
Video
Alicia Svigals' Klezmer Fiddle Express
CD: Beregovski Suite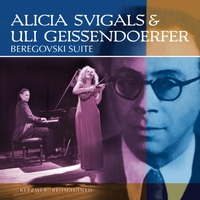 Alicia Svigals and award winning Jazz and world pianist Uli Geissendoerfer perform melodies rescued by Soviet Jewish Ethnomusicologist Moishe Beregovski, in settings that both recreate the lost world which gave them birth and re-contextualize them for the 21st century.
In the 1930's a Jewish scholar from the Ukraine named Moshe Beregovski set out, with eery prescience, to collect and preserve the deep and rich Jewish musical tradition around him.  On what turned out to be the eve of the destruction of European Jewry, Beregovski organized expeditions to Ukrainian "shtetlekh" (small Jewish towns) and sought out the eldest singers and instrumentalists he could find, asking them to pour their collective folk knowledge into his recording horn.  In this way he managed to make thousands of recordings of beautiful Jewish folk songs,  klezmer dance tunes and religious melodies on hundreds of wax cylinders, the medium of the day.
The culture Beregovski documented was destroyed in the Holocaust, and Beregovski himself was arrested and sent to the Gulag.  He never saw his work published in his lifetime, and though his transcriptions were published in the 1980's by ethnomusicologist Mark Slobin, for decades it was thought that those precious and important recordings were gone forever.  Then in the 1990's, with the opening of the Soviet Union, the cylinders were unearthed in a dusty archive in Kiev, and now those long-forgotten melodies and voices are beginning to speak to us again.
The Beregovski Project is the fruit of a longstanding project that Svigals and Geissendoerfer have been developing, to weave the melodies from the Beregovski collection into something new and alive, and to pass them along in this form to future generations of listeners and players.
Past shows
For a more detailed and complete list of upcoming and past shows click here.
Lincoln Center for the Performing Arts, New York
Walter Reade Theater
The New York Jewish Film Festival, a collaboration between the Jewish Museum and the Film Society of Lincoln Center
Brandeis University Leonard Bernstein Festival of the Arts
Brooklyn Heights Synagogue
Cornell University
Grinnell College
Cinematheque – University of Wisconsin, Madison
Detroit Institute of Art
Irvington Town Hall
Kenyon College, OH
Dalhousie University, Nova Scotia
Ashkenaz Festival, Toronto
Harbourfront Centre Theatre
Detroit Institue of Art
Presented by Cinetopia Film Festival
Benaroya Hall, Seattle 
Lang Concert Hall
National Gallery of Art, Washington, D.C.
Hebrew Union College-Jewish Institute of Religion
Scheuer Chapel, Cincinnati
Chisuk Emuna Congregation, Harrisburg, PA
MASS MoCA
North Adams, MA
The Museum of Fine Arts, Houston 
Presented by the Evelyn Rubenstein Jewish Community Center of Houston, the Houston Cinema Arts Society and The Museum of Fine Arts, Houston
Composers and Klezmers: Alicia Svigals on Bartók, Bloch, and the Score to The Yellow Ticket
Evelyn Rubenstein Jewish Community Center of Houston
University of Chicago, Logan Center for the Arts
The Gershman Y, Philadelphia
Co-presented with the National Museum of American Jewish History
National Museum of American Jewish History, Philadelphia
Special event in conjunction with screening of the Yellow Ticket.
New Center for Arts and Culture at Coolidge Corner Theater, Boston
Co-presented by Boston Jewish Music Festival in collaboration with the Boston Jewish Film Festival.  Followed by a panel discussion with scholars from
Southwest Michigan Jewish Film Festival, Kalamazoo
Coral Gables Art Cinema, Miami
Presented by Next@19 in collaboration with the Miami International Film Festival
Chutzpah! The Lisa Nemetz International Showcase of Jewish Performing Arts at the Norman Rothstein Theatre, Vancouver
Washington DCJCC: Washington Jewish Music Festival and Washington Jewish Film Festival