single artist template
Claude Méthé violon, guitare, voix | Dana Whittle guitare, voix, podorythmie, accordéon | Denise Levac flûte, voix | Colin Savoie-Levac banjo, mandoline, guitare, mandola, podorythmie, voix | Béatrix Méthé violon, voix
"…an amazing breadth and depth of experience… [Béatrix] Méthé and Savoie-Levac bring a fresh outlook to the table and the boundless enthusiasm of youth. The result is exhilarating." Penguin Eggs
Two families, two generations, folk-trad family-band Dentdelion is the living proof of the tranmission process. Founded in 1994, the band is fiddler-singer Claude Méthé (founding member of legendary Le Rêve du Diable, Félix winner), singer-guitarist Dana Whittle (Jeter le Pont), Denise Levac, veteran flutist (Manigance) and more recently their talented offspring multi-instrumentalist Colin Savoie-Levac (17, son of Denise) and fiddler-singer Béatrix Méthé (15, daughter of Claude and Dana). The group lives in a region considered by most to be the epicentre of trad Québéc music.
Dentdelion performs original music that draws on tradition – rejigs of ancient songs, new compositions and bouquets of "ear-worm" tunes penned by all members of the band. Picking up the tradition where it left off, Dentdelion heads into folk-trad territory, never straying far from the essential Québec sound with its omni-present fiddle, (stereo) tapping feet and unique swing. Guitar, flute, powerful vocals and harmonies, a capella arrangements… the raw and the refined come together to create a rich sound that is both intimate and energized and unescapably Québécois!
Dentdelion has brought their fresh sound to audiences in Québec, Canada, the U.S.A., Europe and the U.K. The younger band members are already veteran performers in addition to being members of their own hot young band Les Poules à Colin. In 2009, received a Canada Council grant to record their most recent album, La Tondeuse. They are eligible for limited touring support from Québec's SODEC.
Two families, two generations of traditional and original songs and music from Québec. Concerts, dances, workshops and fun for all!
Deux familles, deux générations, la musique de Dentdelion (ancienne nomenclature du "pissenlit") est une véritable "salade trad" dont l'emphase et carrément sur l'originalité, fort inspirée de la tradition québécoise. Composé de Claude Méthé (Le Rêve du Diable, Entourloupe, Ni Sarpe Ni Branche…), Dana Whittle (Jeter le Pont), Denise Levac (Manigance),  Colin Savoie-Levac (en école sécondaire; fils de Denise) et Béatrix Méthé (aussi une élève de sécondaire, fille de Claude et Dana), le groupe vous emballera avec un répertoire de piéces originales ainsi que chansons merveilleuses qui portent des mélodies fraîchement recoltées du jardin créatif de ces cinq musicien(ne)s. L'ajoute de la deuxième génération crée une "vinaigrette" délicieuse, remplie de l'énergie, de la complicité, des sourires – enfin, une musique d'une rare et généreuse beauté!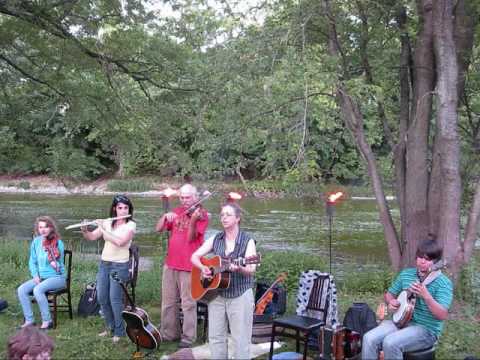 Management: FamGroup
Heidi Fleming: 
heidi@famgroup.ca